So I took a slightly different approach with this chapter. I read and took notes (preserving the WHAT reactions) to try and trim down on how long these posts take/get a better grasp of the issues. Let me know what you think in the comments. (
Will Wildman note: Also, now that I'm an official contributor, it's way easier for me to get in and edit these things, so the typo count will probably go down. I might throw in some semicolons and stuff just to show off.
)
Ana asks as Grey tucks her into bed if they'll call the cops about Leila slashing her tires/throwing paint on her car and he says no. Why? Because he doesn't want to involve the police, they'll just lock her up! He'll handle it! He just needs to TRY HARDER! I'm sad Ana doesn't smack him upside the head and say "Or the court will mandate she gets psychiatric help. Something you can't actually force her to do and stick with. They can. They can also offer further protection to me/your family and be a whole extra group of people keeping an eye open for her. People who have legal and total access to things that you have to work really hard to get access to." There's a lot of talk about how worried Grey is for Ana (foreshadowing that he'll leave her to keep her safe again) but I think he's more worried about being worried then actually being worried. Ana's a bit freaked out when he puts her to bed, and asks him to come to bed, too. He says no, leaving her alone. Because, you know, all she wanted was snuggles. No emotional vulnerability at all. When she wanders out later he scolds her for it, and he really doesn't seem to care that much about Ana, the person. It's like he sees her as some frail little doll, but her needs for safety/security do not outweigh his want to protect and "save" his ex.
"Your beard grows quickly," I whisper, unable to hide the wonder in my voice at this beautiful, fucked-up man who stands before me.
Don't be silly. Stubble never gets soft.
I trace the line of his bottom lip then trail my fingers down his throat, to the faint smudge of lipstick at the base of his neck.
What the hell kind of lipstick IS this?
I don't want to touch him. Well, I do . . . but I won't.
Oh my god is Ana learning?!
"In the bedroom. I want you in your bed."
"Do you now? Miss Steele, you are insatiable."
Fixing problems with sex. Again.
Grey notices the balcony door open and Ana tells him about the woman she thought she saw. Grey's response is to snarl at her and demand she put more clothes on (only wearing a shirt) as he calls to hiss at his security dudes.
Christian gives them a précis of what has happened.
Is this because the book is supposed to be aimed at older women? Is this why Ana talks like a pretentious jackass?
So the men discuss how they will handle things because Ana is just a silly little woman and Grey decides they'll go to a hotel.
"Aren't we all overreacting slightly?" I ask.
Christian glowers at me. "She may have a gun," he growls.
"Christian, she was standing at the end of the bed. She could have shot me then, if that's what she wanted to do."
Christian pauses for a moment to rein in his temper, I think. In a menacingly soft voice he says, "I'm not prepared to take the risk.
Seriously? This woman has broken into a house, trashed your car, and you think getting the fuck out of a giant condo (so big Ana hasn't seen it all yet!) with lots of hidey-holes is a bad idea? She is obviously not well at this point in time, and I think counting on her to act consistently is... optimistic? Her actions have also been escalating. Yes, she didn't shoot you
yet
. She just showed up outside of your work, trashed your car, and watched you sleep. This should seem like a fantastic idea to Ana, and I'm confused as hell as to why she's arguing.
"Why don't you just call her . . . tell her you want to talk to her?"
"Anastasia, she's unstable, and she may be armed," he says irritably.
"So we just run?"
"For now—yes."
THIS also confuses me. (
WW: Is it just me or does this read like Grey is afraid she will shoot him over the phone? Bullets do not travel through phone lines, Grey. You would know that if you didn't have a pathological need to use email for everything
.) Grey has been trying to hunt down this woman/refusing to go to the cops. Yet he'll run from her when calling her is apparently an option? This seems.... suboptimal. Unless he plans to have his "obviously competent" security team deal with her?
"Yes." I am affronted. "I can shoot, Mr. Grey, so you'd better beware. It's not just crazy ex-subs you need to worry about."
"I'll bear that in mind, Miss Steele," he answers dryly, amused, and it feels good to know that even in this ridiculously tense situation, I can make him smile.
I'm torn on this. On one hand, I love Ana's intentions here. She's trying to make light of an awful situation but this book just throws the word "crazy" around like there's no tomorrow. She's not "crazy"; she's sick. Let's be blunt about that. She isn't some frothing at the mouth rabies infected beast, she's a human being who is struggling, and struggling hard. I don't blame Grey for wanting to help her, I just think he's doing it all wrong.
Ana wonders about what to do with the car, and rather then file an insurance claim (because that would mean a police report) Grey tells her he'll just buy her a new one. Because money fixes everything, you know.
"How could she have known it was my car?"
He glances anxiously at me and sighs. "She had an Audi A3. I buy one for all my submissives—it's one of the safest cars in its class."
How long could this car have been around for? I also feel this underlines that all of his subs (before Ana who is the most special and unique snowflake ever) are interchangeable. (
WW: I just think this would make the best Audi advertisement ever.
) He took them shopping, they had their own rooms, he bought them all the same car, took them all to the same salon to have their hair (always brown) styled the same way and their bits waxed in ways he liked. His subs were never people, but just interchangeable play things. Which makes him wanting to help "save" Leila all the more confusing. He's shown that he has no feelings for any of his ex-subs; he took care of them because you take care of your things, so why does this one matter?
"Anastasia, despite what I hoped, you have never been my submissive, so technically it is a graduation present." He pulls out of the parking space and speeds to the exit.
Despite what he hoped. Oh no . . . my subconscious shakes her head sadly. This is what we come back to all the time.
"Are you still hoping?" I whisper.
The in-car phone buzzes.
Tension! How can she honestly be thinking about this at the time? It's okay, Grey after a few minutes of brooding tells her "NO AND YOU SHOULD BE ABLE TO READ MY MIND YOU TWIT"
They get into the whole "WHY DON'T YOU JUST KNOW THAT I LOVE YOU AND YOU ARE PERFECT THE WAY YOU ARE?!" and Ana thinks because he doesn't do X Y Z (share more about himself/tell her he loves her bluntly) that there's room for doubt. She also decides to spill
everything
that Carrick told her, which naturally he's downright giddy about. Ana also mentions his "running to Elena" after they broke up which Grey denies, and gets bitchy as hell when Ana is confused. Ana isn't sure if he's being honest or not. I'm now wondering if Elena is the one actually doing the tire slashing?
Here I am, in Seattle's most prestigious hotel, dressed in an oversized denim jacket, oversized sweatpants, and an old T-shirt next to this elegant, beautiful, Greek god. No wonder the receptionist is looking from one to the other as if the equation doesn't add up. Of course, she's over-awed by Christian. I roll my eyes as she flushes crimson and stutters. Jeez, even her hands are shaking.
WE GET IT HE IS A GREEK GOD! THE PERFECTION OF MAN! Random woman feeding her dog in the corner is commented on, she's dark haired. Dunno if it's a random toss off or not. Also Firefox tells me over sized is two words. (
WW: Firefox is behind the times. At the very least it would need a hyphen.
)
"You never cease to amaze me, Anastasia. After a day like today—or yesterday, rather—you're not whining or running off into the hills screaming. I am in awe of you. You're very strong."
"You're a very good reason to stay," I murmur. "I told you, Christian, I'm not going anywhere, no matter what you've done. You know how I feel about you."
His mouth twists as if he doubts my words, and his brow creases as if what I'm saying is painful for him to hear. Oh, Christian, what do I have to do to make you realize how I feel?
Let him beat you, my subconscious sneers at me. I scowl inwardly at her.
Ana really seems to hate herself, doesn't she? There's a lot of self-loathing in this book which I imagine will be cured by the power of LOVE! As opposed to, you know, therapy/self help. Well, at least neither of them believes the other
really
cares about them deep down in their heart of hearts.
"You are Aphrodite, Anastasia," he murmurs.
Is he calling her a Greek goddess because she keeps thinking he's a Greek god? CAN HE READ HER MIND?!
I clasp his face in my hands, tip his head up, and bend to kiss him. He groans low in his throat.
Sounds.... sexy?
along my belly to my breast, squeezing, kneading, and pulling enticingly on my nipple.
Wait, is he playing with her nipple or are they making bread?
"You make me forget everything. You are the best therapy," he breathes, moving at an achingly leisurely pace, savoring every inch of me.
Poor Dr. Flynn. If only he had thought to just mount Grey. That would have done so much more for him! Seriously though it's vexing how sex is used as the cure-all in this book. Is Ana's snatch that magical?
I move my hands into his hair and surrender myself to his rhythm as slowly and surely my body climbs higher and higher and plateaus, then falls hard and fast as I come around him.
I clocked seven seconds.
He's come a long way, as have I, in such
a short time. It's almost too much to absorb. With all the fucked-up stuff, I am losing sight of his simple, honest journey with me.
Simple and honest. Really? We're- you're- No. Bad.
"Hi," I murmur, grateful that I am lying on my front. "How long have you been watching me?"
"I could watch you sleep for hours, Anastasia. But I've only been here about five minutes." He leans over and kisses me gently.
Breathing heavily the whole time.
"No. You don't." He grins at me. The faint line of red lipstick is still visible around his neck.
WHAT THE HELL KIND OF LIPSTICK WAS THAT?!!?? I've gone to effort to keep mine in place and I'm lucky if it lasts an hour. What the hell is he wearing?!
As I stretch, I'm aware I ache all over . . . no doubt a result of all the sex, dancing, and teetering in expensive high-heeled shoes.
Remember at the beginning of the book when Ana wore sensible heels and Grey acted like she couldn't walk in them and last book when he scolded her for wearing heels because she's sooo clumsy?
I know he hired someone to buy these clothes for Ana, but I'm certain he gave notes to the woman. I'm surprised "no really high heels" wasn't on the list. Doubly so considering how much posturing he does about her safety and comfort.
Leila—the girl who looks like me—that's the most startling image my brain conjures for conjecture, that and her eerie presence in Christian's bedroom. What did she want? Me? Christian? To do what? And why the fuck has she wrecked my car?
"To wear my skin like a snuggie and pretend to be me since we already look so much alike"?
I'm going to assume the author's intent was "Because she's crazy and loooooves Grey because he's so perfect!" but I'd think she's deeply disturbed right now and is redirecting her anger and grief about losing her boyfriend into the "one that got away" and onto Ana because he hasn't gotten away from her? Although I'm annoyed that EL James is treating "crazy" as the answer to all her plot holes with this character... Maybe Grey damaged her so much that she's trying to scare Ana off for her own good? That's it! Grey mentioned she had been his sub for about two years if memory serves, that's an awful lot of black magic.
Maybe it deteriorates the brain? I mean, seeing Ana go from reasonably stable and self sufficient to... well, as we see her now... That's the perfect explanation! It's like getting
indoctrinated
by the
Reapers
in Mass Effect! You become mindlessly loyal and slowly deteriorate until you become an empty husk! So Leila managed to get out before she was totally ruined, but has been struggling ever since, a state of constant agony. She's tried to fight the control of Grey's black-magic penis* after the fact by filling the void with other men, and when that stopped working was around the time she went missing. She's now in a daze trying to warn Ana, but too damaged to do so in a way that will actually help. Alright, Leila is officially the most sympathetic character in this book. (
WW: Further proof that this story works way better as survival horror.
)
"Is it safe?" I ask innocently, trying and failing to keep the irony from my voice.
Christian's face falls, and his mouth presses in a line. "Where we're going, it is. And it's not a joking matter," he adds sternly, narrowing his eyes.
I flush and stare down at my breakfast. I don't feel like being scolded after all the drama and such a late night. I eat my breakfast in silence, feeling petulant.
Weren't you okay/relieved when she was joking about it last night because it lightened the situation?
The next scene I want to talk about is Ana and the doctor giving her the shot. Ana has apparently stopped taking the pill in the week she was single. The doctor freaks out, even though Ana has 1) been using condoms this whole time and 2) gotten her period but insists she might be knocked up and she shouldn't be so reckless so getting the shot is definitely a good idea since she's obviously too scatterbrained to remember to take a pill every day! This.... This bothers me. Mostly because it's not right. No doctor would be freaking out over you missing a few days on the pill if you were still using condoms. The pill is also still effective, though not AS effective, if you miss a few days. If she has had her period, AND been using condoms, this is EL James giving us someone besides Grey to make the shot seem like a good idea. So that way we see "No, no, Grey really just knows better than Ana about what's best for her!". EL JAMES YOU COULD HAVE JUST FUCKING GOOGLED THIS SHIT!
So Ana freaks out for a bit that "OH NO I COULD BE KNOCKED UP!" while the doctor makes her go piss on things. I like to think it's Grey's shoes. Although there's something wrong with this, too. If Ana
were
pregnant, it would have been within a week. Isn't that too soon for a standard pregnancy test (which is what the doctor seems to use) to work?
Now, let me counsel you about this shot. We discounted it last time because of the side effects, but quite frankly, the side effects of a child are far-reaching and go on for years."
Because there are no other solutions for an unwanted pregnancy than keeping the thing forever. Abortions? Adoption? No? Not in EL James world? People must LIVE WITH THEIR MISTAKES? Alright then.
So Ana gets jabbed with a needle, the doctor lets out a sadistic giggle (I might be making that up) and Ana is all terse and snippy at Grey because she's shocked and stunned.
He furrows his brow at me, puzzled. "My reaction? Well, naturally I'm relieved . . . it would be the height of carelessness and bad manners to knock you up."
"Then maybe we should abstain," I snap.
He gazes at me for a moment, bewildered, as if I'm some kind of science experiment.
Ana clearly isn't taking to the black magic like she should. That's why he likes her so much.
"It was just a shock, that's all," I repeat petulantly.
Clasping the lapels of my robe, he pulls me into a warm embrace, kisses my hair, and presses my head against his chest. I'm distracted by his chest hair as it tickles my cheek. Oh, if I could just nuzzle him!
CHEST IS A NO-GO AREA FOREVER BUT LET ME PULL YOU AGAINST MY BARE CHEST BECAUSE THAT WON'T CONFUSE BOUNDARIES AT ALL! (
WW: I'm going with the theory that Grey has a freeze tag fetish.
)
Grey goes on to tell Ana he wants her to spit out what's bothering her (because the whole thing with having woken up with his likely violent ex/finding out she might have been preggers isn't enough for him to fill in the blanks) because his first thought it to beat it out of her. No, really.
"Ana, I'm not used to this," he murmurs. "My natural inclination is to beat it out of you, but I seriously doubt you want that."
RUN ANA! RUUUNNNNN!!!!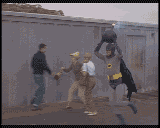 The bomb represents her difficulty in ditching Grey. Okay I just wanted to use an Adam West Batman .gif.
I am once again floored by his honesty. He knows nothing about relationships, and neither do I, except what I've learned from him. Well, he's asked for faith and patience; maybe I should do the same.
If "faith and patience" are what he's been doing, you know, with the whole forcing you to take money/gifts you're uncomfortable with, withholding information that could be relevant
to your safety
(you know, that thing he's so obsessed about) and getting snippy and bitchy when you don't drop an issue almost immediately.... Sure, return that favor.
Then it's shower time. Grey scrubs Ana down and shockingly we don't get another sex scene (boo hiss). Instead Grey asks Ana to wash off the remaining lipstick (must be warlock extra-long lasting). This means touching the edges of his no-go zone. He's trying not to freak out and start flailing around like a caged angry monkey and start throwing shit everywhere while Ana is sobbing over how damaged he is and how much he's trusting her.
Then there's some more crying and Grey goes into a little self-loathing spiral about how she shouldn't cry for him because he's just so broken and nobody understands him. He then starts sobbing about how nobody understands him and runs away from the dinner table weeping leaving his family confused/amused. Wait, no, I made that last bit up. Sorry, Ana uses the SECRET KNOWLEDGE that Mrs. R gave her (he feels unworthy of love blah blah de blah) to try and convince him he shouldn't hate himself because he is the greatest evarz. No, Ana, that's the black magic talking.
I know how you feel about me."
He gazes down at me, his eyes wide and panicked, and all we can hear is the steady stream of water as it flows over us in the shower.
"You love me," I whisper.
His eyes widen further and his mouth opens. He takes a huge breath as if winded. He looks tortured—vulnerable.
"Yes," he whispers. "I do."
I had started to scroll to the bottom of the chapter to figure out how many pages were left, and just saw "I do" and panicked that maybe he had just proposed. Thankfully, he did not. I can't pretend I didn't see this coming but I'm not sure why it's all so dramatic/tortured. Is he afraid that by loving her he'll ruin her? Is he upset because he's pretty sure she'll turn into a husk and no one wants to love/have sex with a husk?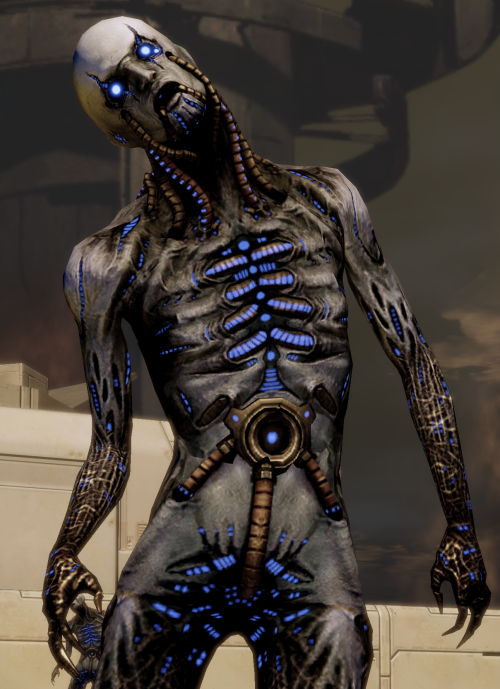 They don't even have proper genitals.
As always comments help take the sting off of the liver pain! Please feel free to share/like/tweet/whatever other nonsense people do on social media the blog and make sure you pop in Sunday to see Will's first Ender's Game deconstruction post!
*Band name? Band name.